Questions for Big Tech
Questions for Big Tech
This week, the Subcommittee on Communications and Technology and Subcommittee on Consumer Protection and Commerce held a joint hearing with the leaders of large technology companies. During the hearing, I raised concerns with Facebook CEO Mark Zuckerberg and Twitter CEO Jack Dorsey about censorship of conservative viewpoints on their platforms. The public simply does not trust Big Tech to handle content on their platforms in an unbiased way. Click here to watch my questions.
Letter to OMB
The Office of Management and Budget (OMB) is considering a proposal to increase the population requirement for a metropolitan statistical area (MSA) from 50,000 to 100,000 residents. If this proposed change goes through, it could ultimately impact the amount of federal resources allocated to regions like Jackson and Monroe. Along with some of my Michigan colleagues, I sent a letter to the Acting Director of OMB urging the agency to reverse course. Read our letter here.
Serving our Veterans
It was a privilege to visit with local veterans this past week at an open house at VFW Post 423 in Washtenaw County. We discussed health care, employment, and other issues facing veterans in our community. I am grateful to all the organizations who joined Rep. Debbie Dingell and me at the event and shared available resources for veterans and their families.
Thanking our Farmers
On Tuesday, we recognized National Agriculture Day, an opportunity to say thank you to all dedicated farmers and producers across Michigan. The 7th District is home to a large and vibrant farming community, and I always appreciate the opportunity to hear about the issues on their mind. Recently, I stopped by the Ottawa Lake Co-Op to discuss agriculture policy with Jason Heerdegen and Ned Birkey from MSU Extension.
Hearing from Health Experts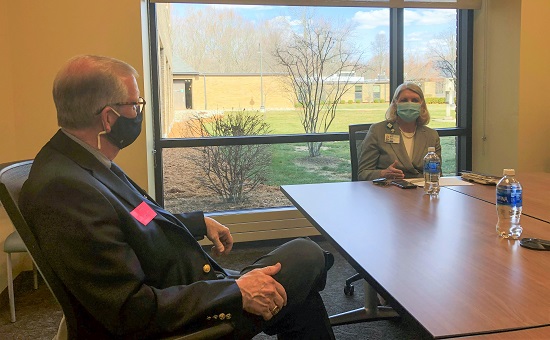 As the vaccine rollout moves forward, I continue to hear from and engage with health experts, local officials and agencies, and area businesses in the medical supply chain. This week, I had the chance to visit St. Joseph Mercy Chelsea Hospital to meet with CEO Nancy Graebner and discuss vaccine distribution and combating COVID-19.

Vaccine Eligibility 
Starting this week, Michigan Department of Health and Human Services (MDHHS) officials expanded vaccination eligibility for Michiganders ages 16 and older with disabilities or medical conditions that put them at high risk of negative COVID-19 outcome. Beginning Monday, April 5, all Michiganders age 16 years and older are eligible to be vaccinated.

Scheduling a Vaccination 
On Wednesday, a community vaccination site opened at Ford Field in Detroit. For more information on the registration process, please click here. Otherwise, please visit my website for county-by-county vaccine information, and you will find links to appropriate resources in your county. 
---