Improving Vaccine Distribution
Improving Michigan's Vaccine Distribution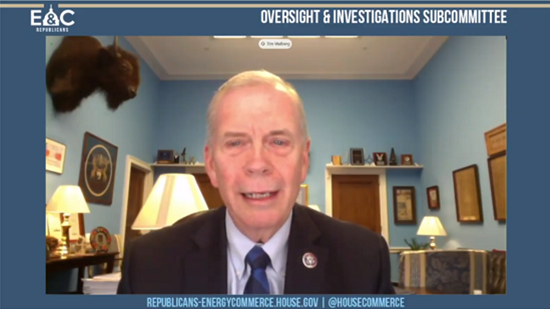 This week, during a House Energy and Commerce Subcommittee hearing, I questioned Dr. Joneigh Khaldun, Chief Medical Executive for the State of Michigan, about early issues with COVID-19 vaccine distribution at the state level. In the beginning of January, the Centers for Disease Control and Prevention ranked Michigan in the bottom ten among all states in vaccines administered per 100,000 residents. While the numbers have improved in recent days, the data to start the year points to the Whitmer Administration dropping the ball in the initial stages of the vaccine rollout.
Speaker Pelosi's Partisan Budget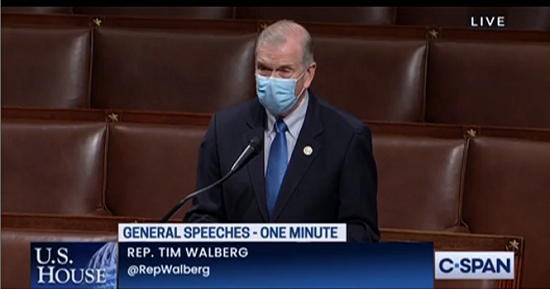 With no hearings or committee consideration, Speaker Pelosi rushed a partisan budget framework to the House floor this week. Once again, Democrats in Congress are using the pretense of COVID relief to ignore bipartisan consensus and push a $2 trillion liberal wish list of unrelated provisions.
Currently, over $1 trillion of funds appropriated in previous congressional bills have gone unspent. Students need to be back in the classroom. Vaccines need to be distributed. And workers must get back on the job. Let's work together to expedite this recovery. To watch my full remarks, click here.
Expanding Access to Apprenticeships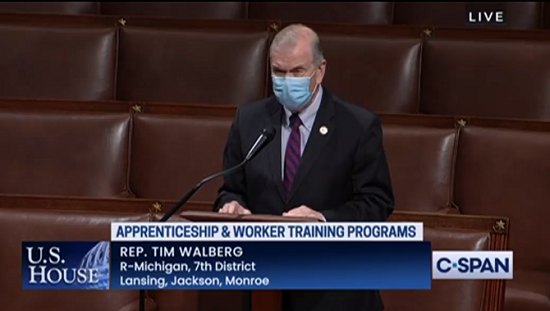 Apprenticeships play a pivotal role in workforce development across the country by helping people acquire hands-on experience. I took to the House floor to highlight the tremendous value a strengthened apprenticeship system has for workers, job creators, and our economy as a whole. In today's modern economy, we must ensure these programs meet our workforce needs, especially as we seek to expand wireless technologies and bring broadband to rural communities.
Standing up for American Jobs
With many Michigan families and small businesses still struggling from the pandemic, we need to advance polices that grow jobs and help our economy recover. Unfortunately, the Biden Administration continues to take unilateral actions that jeopardize job growth, including revoking a permit for the Keystone XL pipeline.
In response to the President's order, this week I cosponsored H.R.684 to authorize the Keystone XL pipeline and stand up for American jobs and energy security. If you have not seen my recent op-ed on the need to return to bipartisan legislative processes and limit the partisan unilateral executive orders, you can read it here.