Hearing from you
Update on Afghanistan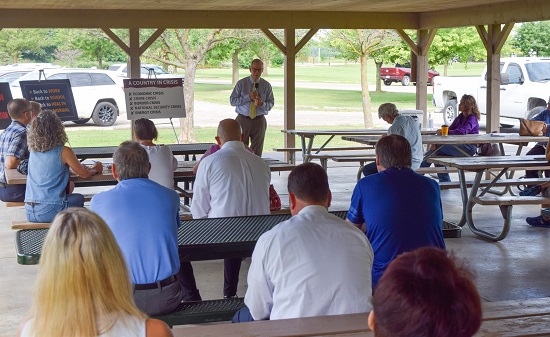 This week, I continued to travel all across Michigan's 7th District to hear from you, holding outdoor community gatherings in Clinton and Jonesville. We discussed many important legislative topics, but the issue that was top of mind for many was Afghanistan.

My heart breaks for the military families who lost a loved one during the terrorist attack at the Kabul airport. As a nation, we are forever indebted to these heroic servicemembers who made the ultimate sacrifice. Our prayers are also with those who suffered injuries and the troops, allies, and fellow citizens still in harm's way.

Tragically, Thursday marked the deadliest day for American troops in Afghanistan since 2011. This unfolding nightmare speaks volumes about President Biden's lack of leadership and weakness as Commander in Chief.

Let's be clear: The Biden Administration's incompetent withdrawal put our troops in an entirely preventable, and now, perilous position. All confidence is lost in the President and his top advisors. In light of this abject failure, Secretary Austin and General Milley should offer their resignations.

Moreover, the August 31 exit date must be pulled. There can be no arbitrary deadlines when Americans and our allies are still stranded behind enemy lines.

President Biden needs to forcefully assure the Taliban that he will use every available resource to get every American out of Afghanistan. Stop letting the Taliban dictate U.S policy and bring our people home. May God bless our troops during this time of turmoil.
Veterans Crisis Line
If you are a veteran, or know one who is struggling right now, please don't hesitate to reach out for help. The Veterans Crisis Line is available 24/7 by calling 1-800-273-8255 or texting 838-255. You can also learn more at veteranscrisisline.net.
Time for Fiscal Sanity
Speaker Pelosi called a special House session earlier this week—sadly, not to address Afghanistan—but to ram through a partisan spending bill using procedural gimmicks. This $3.5 trillion budget written by Senator Bernie Sanders will raise taxes, hurt our economy, and spend more money we don't have—all in the name of advancing a liberal wish list. I voted against it.

This level of reckless spending is simply unsustainable. Americans are already paying more for gas and groceries, and writing more blank checks will only make the inflation crisis worse. We cannot afford to continue down this path—it's time to restore fiscal sanity.
---